Where ideas
come to flourish
Lampant helps your community act on the best internal ideas and engage its members continuously.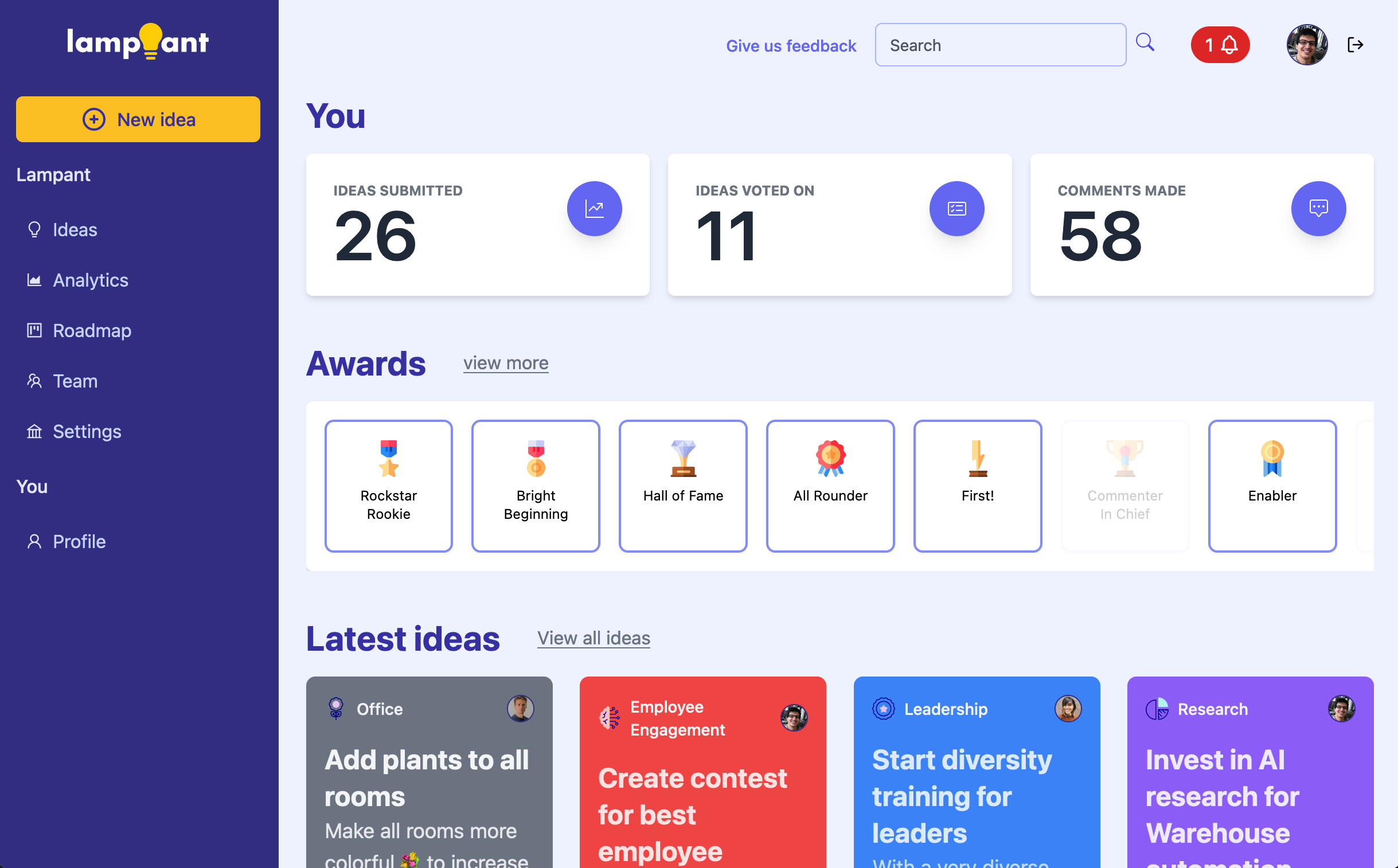 For digital communities
Running a DAO or community on Slack or Discord but need a place to organize ideation and decision making?
For companies
Tired of using a gazillion spredsheets to organize all your company's ideas?
For NGOs
Need an influx of creativity and a place to discover how to tackle the next big challenge?
For any group
A team, a department, an organization... If it's a group of people sharing ideas, Lapant is the right choice.
Limitless
Ideas and suggestions for anything. Literally.
You decide the topics and themes. Your community's members will do the rest.
Employee Engagement
Run Hackathon every 2 months
Find the next big thing.
#hackathon
#employee happiness
FriendsWithoutBenefits
Change governance model
Given the influx of new members and new activities, we need a brand new way to run the community with proper incentives
Mobile App v2
Add automatic refunds to mobile app
Reduce frustration when customers complain about delivery issues. Automatically issue (partial) refunds upon request.
#technology
#mobile app
#cx
Sustainability
Use renewable energy in all offices
Stop using energy sourced from fossil fuels. Let's move to clean energy 🌳
#carbon footprint
#sustainability
#office
Employee Engagement
Create contest for employee submitted recipes
Our employees are food lovers 🥗. Let's get their suggestions and delight our customers even more 🤘
#employees
#engagement
#recipes
Operations
Introduce no/low code tooling for operations work
Allow teams and individuals to be able to create their own "applications" to simplify their work.
#automation
#operations
#tooling
Leadership
Start diversity training for leaders
With a very diverse work force such as ours, leaders should have all the tools and knowledge to be able to deal with diverse groups.
#training
#leadership
#diversity
Education
Provide learning budget to all employees
We need to keep up with the industry and for that we need to constantly learn and find out best practices. A learning budget would help.
#education
#learning budget
Research
Invest in AI research for Warehouse automation
We still have a lot of manual processes; with automation and AI we can reduce errors and increase efficiency.
#ai
#research
#automation
#warehouse
Office
Add standing desks to common area
Sitting all day is not great for our health. With shared standing desks we could work standing up for at least some part of the day
Actionable Ideas
Share. Discuss. Implement. Repeat.
Share your ideas to get feeback and insights from your fellow members. Iterate until it's approved and move ahead.
Innovation is a team sport
An Idea is often an input... for another Idea
You couldn't invent a car without inventing wheels, gas or the internal combustion engine first.
Foster connections between your employees to improve outcomes, while increasing engagement and collaboration.
Engage and reward
Keep people engaged and recognize their input
Nothing makes people more invested than recognizing their value and their input. Reward individuals virtually. Or in any way you like.
Innovation at your fingertips
A better way to move your community forward
Lampant offers an innovation platform like no other, allowing your community to excel by leveraging your own people and their ideas.
Get ideas from everyone

Wherever your people are and whatever is their role, their ideas can be very valuable.

Make good decisions

Use data to drive your decision making, measure and follow up on achievements and learnings.

Light the fire!

Inspire interest in different topics, bring people together and get the best outcomes.

Spark the conversation

The best ideas come out when people talk. Collaboration, from a random thought to a concrete plan.
Integrate
Innovation everywhere, anyware and somewhere in between
Integrate with several tools to take your ideas to new heights. Make it easier to submit and participate with a few clicks.
Ready to unlock your community's innovative power?